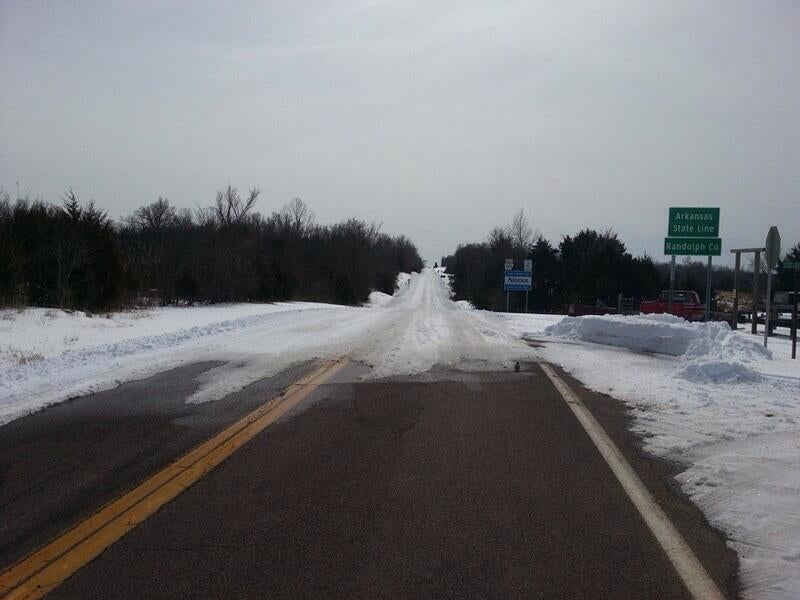 Snow, freezing rain, and sleet hammered parts of the southern United States earlier in the week, creating traffic nightmares wherever the freezing precipitation accumulated. Arkansas took a particularly hard hit after seeing as much as 5 inches of sleet accumulation in some places.
Aside from freezing rain, sleet is probably the worst type of winter precipitation because it falls as ice pellets (frozen raindrops) and accumulates much like snow. As it settles and gets exposed to sunlight, though, it tends to melt a little bit before freezing into a solid sheet of ice that can be several inches thick. This "glacial" ice of sorts sticks to the roads and is impossible to remove without hammering away at it with something like a metal shovel.
The areas of Arkansas that received heavy sleet and ice accumulations didn't remove it in time, rendering hundreds of miles of roadways nearly if not totally impassible. Gov. Mike Beebe placed the blame on the state's Highway and Transportation Department for not acting faster to treat and clear roadways during the storm and said his office will investigate, while also noting that he has nothing to do with them.
The governor also had to call in the Arkansas National Guard to help rescue thousands of stranded motorists on highways across the state.
Though to be fair to Arkansas, North Carolina also sucks at handling winter storms.
As does Georgia.
And Alabama.
And Texas.
And Colorado.
And Minnesota, apparently.
Tornado season is going to be a joy.
[Image via Paul Holmes @pvh1ar / Twitter]